Complete Results Previous Results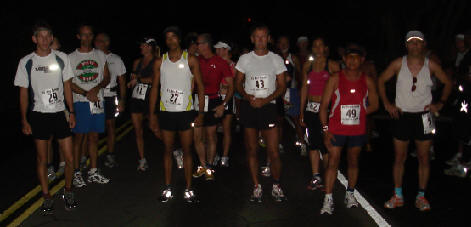 12/7/08 St.Croix, Virgin Islands...Early Sunday morning on the east end of St.Croix a dedicated group of long distance runners took advantage of the relatively cool air and ran in the 34th Annual Virgin Islands Half-Marathon, the oldest road race in the Territory and the V.I.Half-Marathon Championships.
V.I. National Team Members dominated the top places in anticipation again representing the Virgin Islands in regional, national and international competition.
Billy Bohlke, multiple national record holder and winner of the race last year in St.Thomas, was the top finisher in the race on Sunday with a time of 1 hour 18 minutes and 24 seconds (six minutes per mile pace for 13.1 miles). Bohlke led the race all the way as he finished just ahead of Juan Robles of Turabo University and CARIFTA medalist for the Virgin Islands. Robles gained experience from running his first half-marathon in 1:19:16. An excellent performance for the college freshman. Ultra-marathon runner, Matt Halk was the third place male finisher in 1:39:12; Richard Jeanpierre was fourth in 1:39:31; Bob Halk was fifth in 1:40:08; Troy Holloway was sixth in 1:40:25; Mike Klein was seventh in 1:40:38; Ron Rashid from Chicago was eighth in 1:44:32; Scott Fricks was ninth in 1:50:44 and Brad Chafee was tenth in 1:51.29.
Ruth Ann David the defending champion of the St.Croix race, had a very strong performance as she finished third overall and the first female finisher in 1:32:01. V.I.National Cross-Country teammate of David, Theresa Harper took second place for women in 1:39.41; Steadily improving, Dulcie Crowther was third in 1:54:19
A number of runners made their marks as top age group finishers. Chris Pitre led the 20 to 29 men in 2:00:11. Amanda Warehime, a finisher in this year's New York City Marathon led the 30 to 39 group of women with a time of 1;56:39. Bob Halk led this age group for men in 1:40:08. Sara Gambee led the 40 to 49 women's age group in 2:01:25; Troy Holloway led the men in 1:40:25. Richard Jeanpierre led the 50 to 59 men in 1:39:31; Julio Sanchez led the 60 and over men in 2:02:00
For information contact: The Virgin Islands Pace Runners 340-643-2557 logon to: http://virginislandspace.org
The next race on the V.I.Pace Schedule: The St.Croix Metric Mile Sat. December 13, 5pm Upper Love, St.Croix…Sat. December 20 The Cane Bay 5Mile 7am Cane Bay, St.Croix